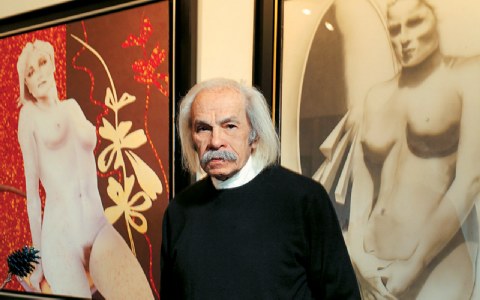 He was born in 1930 in Trikala (Thessaly). He began his studies at the Panteion University of Social and Political Sciences (1948-1950) and then he studied painting and sculpture at the Athens School of Fine Arts (1951-1955), with Y. Moralis and Y. Pappas. In 1957, he went to Paris on a greek state scholarship (I.K.Y.) to continue his studies at the École des Beaux-Arts. He stayed in France for about six years. Like other Greek artists of his generation, he sought his expressive idiom within the European artistic environment. His first solo exhibition in Athens (
Zygos
 gallery, 1962), demonstrated a clear shift towards abstraction, which, however, did not last very long. 
In the next phase of his work, after his return to Greece (1963), the neo-representational elements and the human figure will gradually become dominant, with works that referred to the evils of war and the threats of modern reality, joining the highly charged politicized atmosphere of the time. Since then, his art will remain anthropocentric, mainly in terms of the works' content, which is always a reflection on the human condition, despite the thematic and morphoplastic alternations evident in his painting. 
In 1973, he went to New York, on a Ford Foundation scholarship, where he stayed until 1975, travelling across the U.S.A. and Canada. 
After 1970, his painting refers to some sort of magic realism, with elements of surrealism and fantasy combined with images of reality and technological references. His sculptures and his constructions are characterized by similar poetic elements. In his more mature pursuits, the lyrical approach of reality obeys to a precise structure of design, combining the conquests of pop-art with the artist's personal style and a special emphasis on female presence. 
He was a founding member of the art group 'Tomi' (1963) and the 'Greek Artists Association' (1976). 
He presented his work in numerous solo and group exhibitions in Greece and abroad. He participated in the 3rd Biennale for Young Artists (Paris, 1963), the 6th Biennale of Alexandria (1965), the Biennale of Sao Paulo (1967), the 
Europalia
 festival (Belgium, 1982) and represented Greece at the 41st Venice Biennale (1984, together with the sculptor G. Georgiadis). Retrospective exhibitions of his work were organized in 1986 (Pieridis Art Gallery), in 2009-10 (House of Letters and Arts – Leonidas Makris Foundation, Trikala) and in 2012 (The B & M Theocharakis Foundation for the Fine Arts and Music). 
In 2001, he received an Athens Academy award for his entire work. In 2004 he created the monumental composition 
Space Poetry
 for the 'Halandri' Station of the Athens Metro.