Dimitris Yeros was born in Greece. He was one of the first artists to present Performances, Body Art, Video Art, and Mail Art in Greece.
He has had 52 individual exhibitions in Greece and abroad. He has also participated in numerous international group exhibitions, Biennales and Triennales in many parts of the world.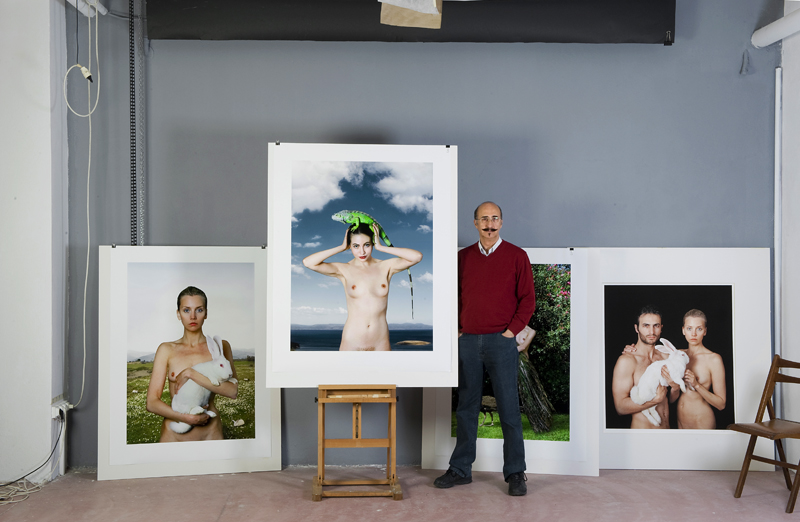 He is collaborating among else with Throckmorton Fine Arts in New York, Holden Luntz gallery in Palm Beach, Pablo Goebel Fine Art in Mexico City and Skoufa Gallery in Athens.
Numerous works by Dimitris Yeros are to be found in many private collections, national galleries and museums worldwide: Tate Britain, Gety-LA, International Center of Photography-New York, National Portrait Gallery-London, The British Museum-London, Maison Europeenne de La Photographie-Paris, Museum Bochum-Germany, Musee des beaux-arts de Mobreal-Canada and elsewhere.
Some of the most important individual exhibitions:
1976 Gimpel-Weitzenhoffer, New York / Schoeller, Dusseldorf, Germany
1977 Sevrugian & Bahls, Heidelberg, Germany / Axiom, Köln, Germany
1978 Zygos, Nicosia, Cyprus / Art Basel, Switzerland / Schoeller, Düsseldorf, Germany
1979 Saalbau, Darmstand, Germany
1980 Gallerie W, Wupertal, Germany
1981 Kunoldstrasse 34 gallerie, Kasel, Germany
1982 ArtNow Gallerie, Mannheim, Germany
1984 Art Gallery, Indiana, USA / Oxford University, Oxford, England
1986 Museum Bochum, Bochum, Germany
1987 Axiom, Köln, Germany
1988 Luxus Berlin Gallerie, Berlin, Germany
1992 Gallerie W, Wupertal, Germany
1993 Art Now Gallerie, Mannheim, Germany
1999 Hotel de Ville, Strasbourg, France / Art Athina, Athens, Greece / Photography Show, New York, U.S.A
2000 MIART, Milan, Italy
2002 Kelsey Museum, Ann Arbor-Michigan
2006 Radiant Light Gallery, Portlant, USA
2008 Kydoniefs Fountation, Andros, Greece
2010 Michael Cacoyannis Foundation, Athens, Greece
2012 Throckmorton Fine Art, New York, "Colors of Passion"
2015 Museo de Arte Moderno de Barranquilla, Colombia
2015 Pablo Goebel Fine Art, Mexico City
The following books have also been published on his work:
1976 The Sparkling Bathtub (published by Kastaniotis)
1977 Photoseries:Photopoem (published by Phyllo)
1984 Yeros with text by Yannis Patilis (published by Phorkys)
1986 Book-catalogue: Dimitris Yeros (published by The Bochum Museum)
1998 D.Yeros with an essay by Pr.Chr. Christou (published by The Prefecture of Biotia)
1998 Theory of the Nude with an introduction by Peter Weiermair Director of Rupertinum, Museum of Modern and Contemporary Art, Salzburg, (published by Planodion)
1999 Periorasis with foreword by the author Michel Deon, Member of the French Academy and introduction by P.Devin, Director of the Centre Regional de la Photographie, France (published by Phyllo)
2000 For a Definition of the Nude with an introduction by Peter Weiermair, Director of the Rupertinum, Phyllo)
2001 The Exuberant Flowering of Dimitris Yeros with an essay by John Wood (published by the municipality of Syros – Greece)
2002 D. Yeros on C.P.Cavafy's poems. Kelsey Museum, Ann Arbor, Michigan. With an assay by Lauren E. Talalay
2007 D. YEROS, Calendar. Harta Publications. Greece
2008 Wavelengh: D. Yeros and S. Karavouzis. Kydoniefs Foundation, Greece with an assay by Athens Schina
2008 Dimitris Yeros. Calendar. Harta publications. Greece
2010 Shades of Love with foreword by Edward Albee and introduction by John Wood (Published by Insight Editions)
2015 Dimitris Yeros, Photographing Gabriel Garcia Marquez, with foreword by Edward Lucie Smith and afterword by Dimitris Yeros. Kerber Verlag, Germany
2016 Another Narcissus, with a poem by Edward Albee and introduction by John Wood. Phyllo Editions, Greece