Nikolaou Nikos
(1909 – 1986)
He was born in 1909 in Hydra. Originally, his artistic inclination became apparent when he was working at the folk art store of his mother in Plaka (Athens). In 1929 he entered the Athens School of Fine Arts to study painting with Argyros and Parthenis. Soon, he began to participate in exhibitions and in 1935 he became member of the art group Free Artists.
In 1937, he left for Paris and Rome in order to continue his studies, sharing the scholarship of his close friend, Yannis Moralis. Having close friendships with peer artists was always one of the dominant characteristics of his personality. While in Paris, he became familiar with the art of Galanis and Derain, like most painters of the '30s generation. The War of 1940 forced him to return to Athens, where he worked, appraising and conserving artworks.
After the war, he devoted himself to painting. He co-founded the art group Armos and organized his first solo exhibition in Athens (Romvos gallery, 1948). His art had become mature by then and indicated his interest in female figures and disciplined drawing. At the same time, he started to create significant egg temperas murals with or frescoes in various public buildings, and also undertook the stage design of several theater performances (from 1954 onwards).
His painting work is inspired primarily by nature, but also by archaic art forms, from which it borrows its expressive simplicity of design and the flat earthly colours. The abstractionism of a modern style is combined with the greek light's clear line.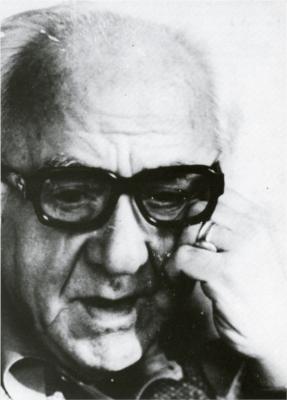 Since 1964, his house in Aegina island became his permanent residence and meeting place for artists and intellectuals. That same year he was elected professor at the Athens School of Fine Arts, where he taught for a decade.
He also started to paint on sea pebbles, which became one of the most popular sections of his work. At the same time he engaged in printmaking and book illustrations.
He presented his work in solo and group exhibitions in Greece and abroad. He participated in the Venice Biennale (1936 and 1964) and Sao Paulo (1957).
His book The adventure of the line in art was published shortly after his death (Athens, 1986).
In 1991, the Athens National Art Gallery organized a retrospective exhibition of his work (paintings, drawings, prints, sets, pebbles, ceramics, sculptures). In 2005, some of his representative works located in trust at the Benaki Museum were exhibited. The exhibition was also taken to Berlin by the Greek Culture Foundation. A monograph on his work was published in 2009.