Armakolas Dimitris
Born in 1939 in Athens, he studied sculpture at the Athens School of Fine Arts (1956-1960) under M. Tombros. He continued with studies at the Ecole des Beaux-Arts in Paris (1960-1962) on a scholarship by the University of Athens. His first solo exhibition was held in Athens (1970, PΚ gallery).
His early subjects were based on archetypal memories and legends rendered through schematic forms in abstract compositions. The vertical layout points to the human figure as a totemic symbol, with few descriptive elements. Special emphasis is given to the relations among the sculpted masses, voids and shapes.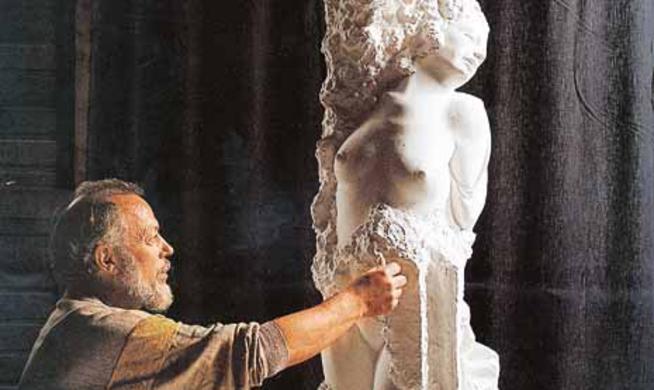 Human figures inspired by archaic Greek art emerge in his compositions in the 1970s, and later the human nude becomes dominant in his sculpture, the smooth and shiny surfaces of the nude bodies coming into sharp contrast with the rough and sharp forms around them. The contrasting textures enhance the expressive intensity of the works, while the coexistence of naturalistic and abstract forms reinforces the poetic or mythical aspect of his narratives. The various materials he employs include clay, plaster, wood, aluminium, concrete, bronze, iron, marble and polyester resin.
In the 1960s he began to collaborate with architects in creating reliefs in concrete for public and private buildings. He also participated in numerous competitions for statues and monuments; over twenty of his works stand in public spaces all around Greece.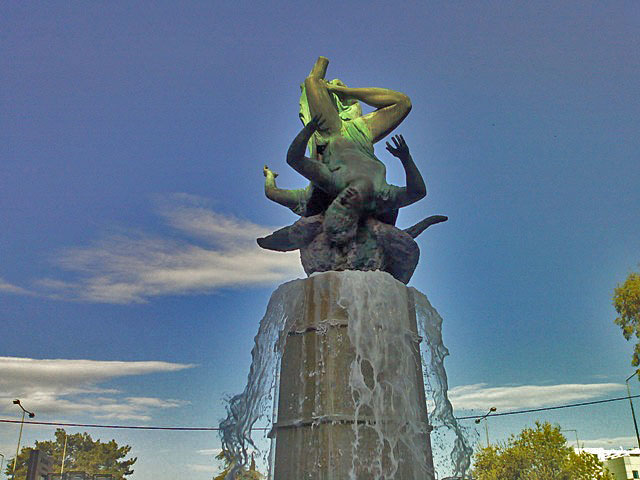 He has presented his work in 18 solo exhibitions and various group shows in Greece and abroad. He took part in many Panhellenic shows between 1963 and 1987, in salons in Paris, in the Biennale of Sao Paulo (1969) and in other international events. In 2007 his entire oeuvre was shown in a retrospective at the Benaki Museum. His various distinctions include the 1st Prize of the 2nd Youth Panhellenic Exhibition (1962) and the 1st Sculpture Award by the Ministry of the Presidency (1970). His works can be found at the National Gallery, the Averoff Gallery, the MIET Collection, the Ministry of Culture, etc.
He met his untimely death of asphyxia in 2009 at his studio, when the foulard he was wearing got caught in the electric grinder.