Some of the most famous painters transform a car into a work of art
An 'Art car' is a vehicle painted and decorated by its owner or manufacturer. Car owners who decorate their vehicles – which, of course, commands for some artistic talent on their side – are called 'cartists'. Historically, it is an idea connected to the hippies' movement – a fact which is not entirely true.
During the '60s, for example, Janis Joplin had a psychedelically painted Porsche 356, while…
John Lennon had a paisley decorated Rolls Royce.
Reminiscing the late '60s, many VW vans drove all over America with the symbol of peace painted on their vehicles.
In 1975, racing driver Herve Poulain had the idea of inviting an artist to create a work of art, using a car as his canvas. This is how Alexander Calder came to paint the first BMW art car in that same year.
1976, Frank Stella, BMW 30 CSL
While working on its draft, he moved away from his aesthetic style, inspired by the car's own technological aura. As he, himself, has noted, describing his intervention: "My design is like a blueprint, transferred on the bodywork."
1977, Roy Lichtenstein, BMW 320i
"I wanted the lines I painted to be a depiction of road car where to go." And he continues: "The design also shows the countryside through which the car has traveled. One could call it an enumeration of everything a car experiences – only that this car reflects all of these things before actually having been on a road."
1979, Andy Warhol, BMW M1
As Warhol himself noted: "I have tried to give a vivid depiction of speed. If a car is really fast, all contours and colors will become blurred." This particular art car is considered to be one of the most important in the genre's history.
1982, Ernst Fuchs, BMW 635 CSi
This car is unique for two reasons: BMW put this model into mass production in this exact design and secondly, it was the first time this particular project was ever assigned to a European artist.
"In painting this car, I had the opportunity to express a wide range of experiences, fears and desires as a general aesthetic idea of artistic freedom. A hare racing on a motorway in the middle of the night, or leaping over a burning car – a primeval fear and a bold dream of exceeding the dimensions in which we live. I read its lines and shapes and I hear it calling for speed. I see this beautiful hare leaping through the flames of love – defeating fear itself."
1986, Robert Rauschenberg, BMW 635 CSi
"Mobile museums would be wonderful. This car is the fulfilment of my dream." It is the first car ever to be decorated with photographic material. An Ingres painting, Bronzino's works, along with some images from ancient plates.
1989, Michael Jagmara Nelson, BMW M3
"This car is a landscape as if viewed from an airplane – I have included water, the kangaroo and the possum." A sample of Papua art on a car. To a connoisseur's eye, these abstract designs represent the element of water, kangaroos and possums. The legends of the Papua is like a dream passing on from generation to generation. It is a civilization's root and future inspiration.
1989, Ken Done, BMW M3
"I have painted parrots and parrot-fish. Both are beautiful and move at an incredible speed. I wanted my BMW art car to express the same thing." Done saw two common features in those two animals and the BMW M3 – beauty and speed.
1990, Matazo Kayama, BMW 535i
"I did not become fully aware of the BMW's lines and contours until after the car was fully painted."
The artist's intention to express his admiration for the company's technology, creating a living bond with modern Japan. For this purpose, he chose to work on his earlier theme 'Snow, Moon and Flowers', only this time he used an airbrush. His composition is delicate, full of subtle, metallic shades of blue.
1990, César Manrique, BMW 730i
Cesar Manrique is known as an architect, sculpture, graphic designer, 3D artist and painter. He is a universal talent, a conservationist who combines creativity with social concern. "My idea of a painting on a car was to create an impression of gliding into the universe without resistance." He depicted everyday life, our cities and the manner in which a landscape can affect the way we perceive the world around us.
1990, Keith Haring, BMW Z1
In this model, the artist created, in his characteristic style, a harmonious, yet dynamic universe. Strong graphics with intense lines which denote their creator like emblematic symbols. This is not the first time Haring has painted an art car – he has also painted on motorbikes and children's cars, presenting an entire series of works on Land Rover station wagons.
1991, A. R. Penck, BMW Z1
"Art in art, art in technology – that's what interested me. Especially art on a three- dimensional object."
To the artist's eye, this particular model is a work of art in itself, since it already represents its designers' and mechanics' creativity and imagination. The artist, inspired by technology, combined it with his own world, his own language. The simplicity of his almost primeval designs challenge the viewer who has the chance to observe the evolution of symbols through time.
1991, Esther Mahlangu, BMW 525i
"Ndebele art has something majestic about it. I only needed to add the idea of movement."
"My art has evolved from our tribal tradition of decorating our homes. The patterns I have used in this particular car combine tradition with the BMW feel."
1992, Sandro Chia, BMW 3 series
"A car is a coveted object in our society."
"I decorated the surface of this car to represent the stares to which it is constantly exposed."
The car's surface is like a mirror, representing the observers, as well as the different ways in which people keep staring at it.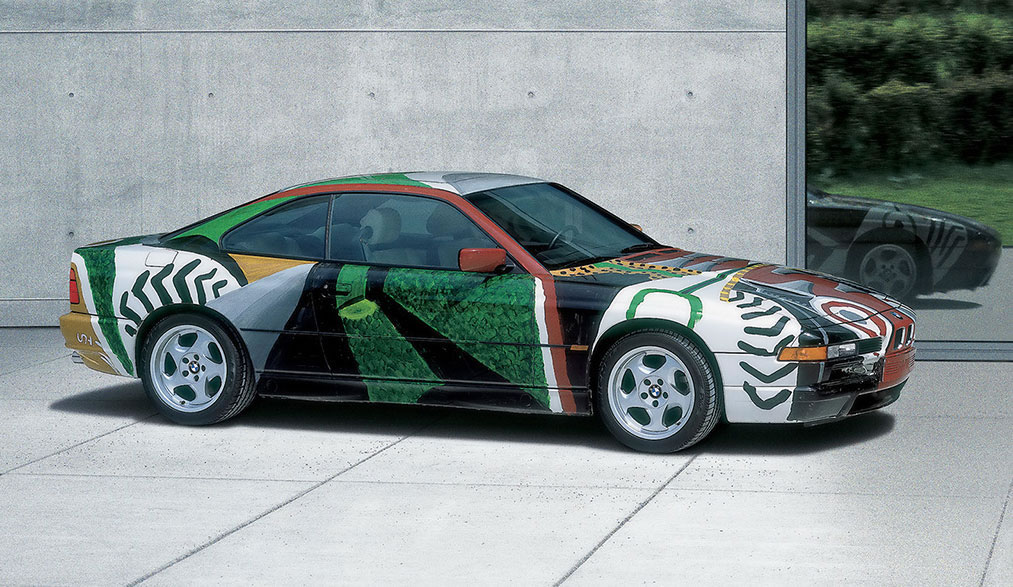 1995, David Hockney, 850 CSi
Artistic work on this car took several months to be completed. Hockney decided that the car should emphasize transparency, presenting a reversed image of the car's interior. The driver can be seen on the outside of the door and parts of the machine are depicted on the car's hood. In the artist's opinion: "Driving and design go hand in hand in a way. Traveling around in a car means experiencing landscapes – which is one of the reasons why I chose green as a color."
1999, Jenny Holzer, BMW V12 Le Mans Roadster
"For me, there isn't a more suitable medium than a racing car."
The artist has chosen six small phrases for the decoration of this particular car.
"Protect me from want I want"
"The unattainable is invariably attractive."
"You are so complex you don't respond to danger."
"Lack of charisma can be fatal."
"Monomania is a prerequisite of success."
"What urge will save us now that sex won't?"
The connotational Jenny Holzer has used blue letters which are evident by day and phosphorescent by night, in order for the message to be visible during the entire race.
2004, Romero Britto, Volvo V50
Through his neo-pop cubism, the artist created a hymn to the ideas of protection and celebration of live. Rich, intense colors, bold designs and heavy contours. Even the moto of this particular model was 'for life'. In 2008, the same artist painted an Audi RS4 using the same techniques and intense colors. Next year, he painted a Bentley Continental GT and in 2013, a Porsche 911 Cabriolet for Art Basel in Miami.
2010, Jeff Koons, BMW M3GT2
"These race cars are like life, they are powerful and there is a lot of energy."  "You can participate with it, add to it and let yourself transcend with its energy. There is a lot of power under that hood and I want to let my ideas transcend with the car – it's really to connect with that power." For its creation, Koons used pictures of racing cars, graphics, intense colors, speed and explosion. The result was a work full of power, emotion and burning energy. During the years, other cars have been painted for different purposes, even though they never became equally famous. In 2010, for example, Damien Hirst created an art car which was sold in order to gather money for the Elton John AIDS Institution.

After all, it is not a trend which will be lost in oblivion. The challenge of transforming an object of technology into an object of art will always be alive. The grander the car's original design, the greater the challenge for the artist.